The Soroptimist Ireland Girls' Public Speaking Competition has been running for over 40 years and is the result of North-South Soroptimist co-operation when Mildred O'Brien SI Bray (President SI ROI) and Marie Brownlee (President SI Northern Ireland) decided that there should be a competition to encourage girls to speak in public.
The Competition is a three-stage event with local, regional competitions leading to a national final. A selection of topics is circulated to schools and each competitor can choose. A 6-minute speech is presented at the competition on the topic of choice and adjudicated by a panel of 3 judges. Impromptu competitions are held at the regional and national finals.
The competition encourages girls to develop the skills to speak effectively and articulately with clarity and conviction. This enables them to improve their self-confidence and personality which in turn will enhance their career opportunities.
A choice of topics is provided for the competition. Each contestant chooses one topic and she carries this topic through to the Regional Heat and National Final if she qualifies for either or both.
All clubs hold their Local Heat before the end of November 2022. Two girls in each club qualify to represent their clubs in the Regional Heat.
The Regional Heat is held on a Saturday or Sunday in January or February 2023 (date to be confirmed). Two girls qualify at each of the four Regional Heats to go forward to the National Final. The National Final will be held in March 2023 (date to be confirmed). The outright winner's club hosts the National Final the following year and decides on the date and venue.
ENTRY: Participants should be in their 4th, 5th or 6th year in a second-level school. The entry form and Parental/Guardian consent form should be completed and returned to the Public Speaking organiser in your school. S/he will make contact with the local (or nearest) Soroptimist Public Speaking Convenor who will forward a 'school pack' with all relevant details to participating schools.
The closing date for entries is 31st October 2022. Download the Entry Form and Parental Consent Form below.
TIME: Prepared speeches must be NO LESS than 4 minutes, nor exceed 6 minutes; otherwise, a penalty may be incurred.
AWARDS
LOCAL HEATS:
■ Certificates will be awarded to all participants.
■ Two qualifying speakers from the Local Heat will each receive a Regional Qualifier's Certificate and a prize.
■ A third speaker will be selected as a reserve.
REGIONAL HEATS:
■ Certificates will be awarded to all participants at the Regional Heat.
■ Two qualifying speakers from each of the four Regional Heats will each receive a National Qualifier's Certificate and a prize.
■ A third speaker will be selected as a reserve.
NATIONAL FINAL:
■ National Finalist Certificate and gift will be awarded to each finalist.
OUTRIGHT WINNER:
■ Perpetual Mildred O'Brien Trophy.
■ Apple iPad and Winner's Certificate. 
2021/22 National Final
The 2021/22 National Final part sponsored by EDCO was hosted by the Drogheda Soroptimists. All the finalists were excellent, and their presentations were most interesting and the overall winner was Eve Donohoe from Loreto Secondary School Wexford.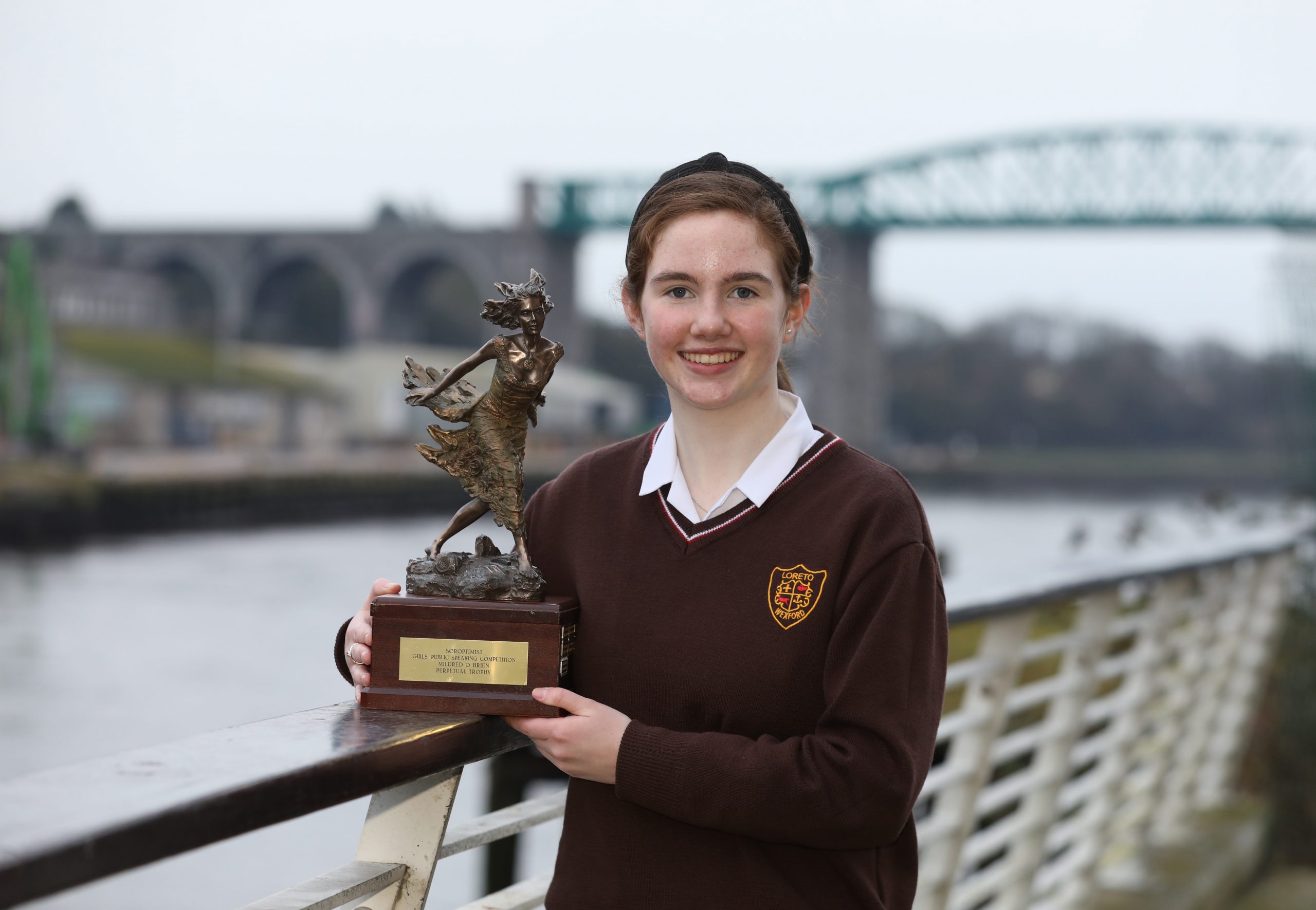 Soroptimists transform the lives and status of women and girls through
education, empowerment and enabling opportunities.