Soroptimist Winners
Out of the darkness – Anne O Sullivan SI Castlebar
The shadows lift, the brightness shines
As we are encompassed by hope and delight
Our frailty strengthened, our sadness benign
We hope, we pray that all will be right.
A strange new world is before us now
Cautious, watchful, strengthened with time
Our hearts and minds we must allow
To believe, to trust, to soar and climb.
We had our time to think and pray
To grieve our losses, shed tears for friends
But brightness, lightness, yield and display
A bright new dawn is welcomed and transcends.
Positive, upbeat, we greet our chance
To start anew, advance and enhance.
Ut Incipiam – Elaine Sherwin SI Dublin
Coming out of the darkness
Into your brilliant light;
Where yellow bellied finches
Sup on dew and children laugh on swings.
The tang of orange on my tongue
And the sight of rainbows and raspberries
Remind me of you in the autumnal haze
And I sigh with longing and nostalgia for what has gone.

Let me cast off the robes of yesteryear
And shroud myself in your peace.
Like a bride bejewelled and decorated,
I want to stand in your gaze
And drink in your promise
Of a new day
A new time
Our time – ut incipiam.
School Winner
Clodagh McGlynn – Loreto College Mullingar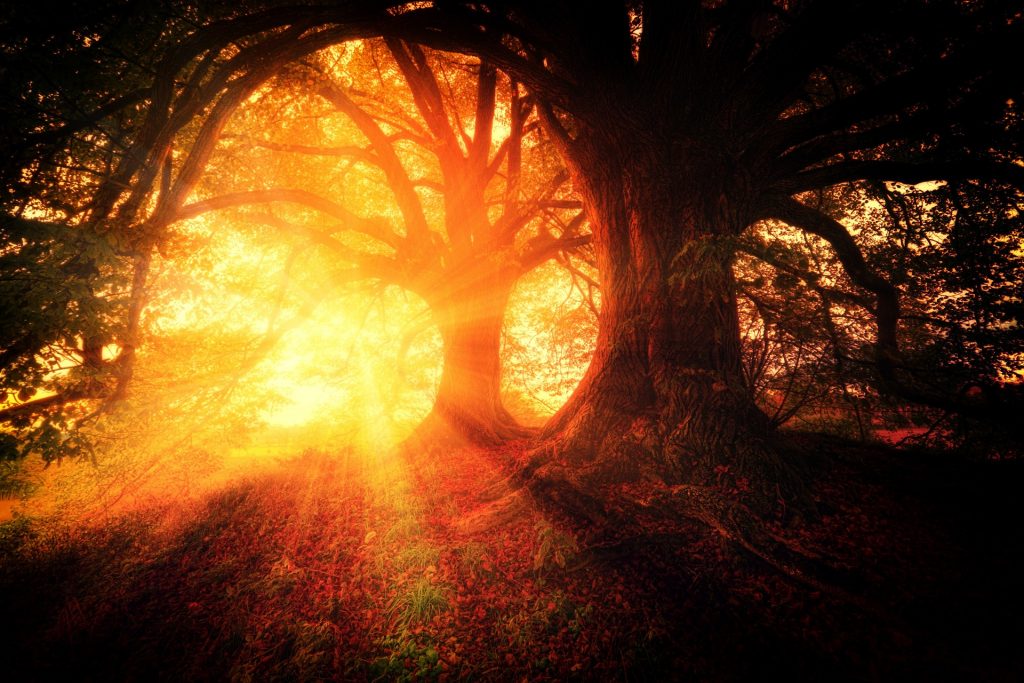 The Dawn Chorus
Dawn breaks as
The sun peeks its head over the hills.
It pushes night away
Bringing the light of a new day.

The sun's gaze is a pleasant change
From the brooding stare of the moon.
Its winking through trees cues early birds to start
The dawn chorus.

The avians twitter and hoot
as they swoop through the sky.
Glad at last to be coming out of the darkness
And into the light.
Dusk comes in
What feels like no time at all.
The moon turns its pale face to the world
Plunging it into nighttime once more.
Such is nature,
A cycle of darkness and light.
The moon and sun made out to be opposing forces,
Though the birds could not be glad of the day
Without the existence of night.
School Runners Up
Coming out of the darkness
Cara Clark  St Vincent's Sec School Dundalk Co Louth

When you sink into the grim darkness 
You may feel as if there is no hope
No hope even on this vast planet
For your own head to cope
You feel swallowed up and hollow inside
Empty like the darkness of the night
Your head throbbing and spinning
Locked up in this tragic fight
These past few years were too much
People coughing and spluttering
Starting to lose touch
Almost all isolating
But you are told that there is still hope
Still hope for you to reach
The hope of light and new awakening
Lying upon one's feet
Tonight your head feels different
Different in a way your words cannot explain
For your head is not damaged
But instead feels relaxed
You feel somewhat disoriented
For you haven't felt like this
You question what happened
This is something you cannot resist
Feeling like a new person
You manage to smile
Now you have come out of the darkness
And into the light
Blossoming out Covid's Shade
Jordan Whitfield Newbridge College 
Peering philosophically, I gently washed it's wispy, watery strands
Iron clay never crumbling in cushioning hands
Bulbs bursting, pulsing, scribbling at the time elapsed…….
Petals plumed & perfumed, they cheerily collapsed
Whispering, the wooden crane finally crunches in relief-
Saturated salmon, sleepily tucked in tranquil tangerine
Reflecting magnetically, into my orbs of moved Marine
Greenish, grass-covered glow in glossy gouache, 
Highlighting the stems long awaited outing day
…………. A soaring future is at play-
Retrieving it from the sombering-shade,
We loquaciously grew, never delayed
Conquering isolating-illness, others followed,
Our pivotal past forgotten and hollowed
Roots expanded, a marvellous exploration
………. Appreciative without explanation-
In a field mingling, sauntering to new destinations
Finally making our own material presentations,
Colours mixing, metamorphic new palettes
Flowers fascinate, displaying their talents
Our dewy, teary drops worthwhile
…………………Now we, the beauteous blooms can smile-
Together, Again
Alison Martin Ardscoil na Deise Waterford
I'd like to say I missed the night,
Red dresses reflecting the overwhelming lights,
The dark-stained lips and petty fights.
But no, I missed the day.
I missed the day, the to-and-fro
of supermarkets and busking shows;
The gentle chatter – the lack of slow.
The unquestionable presence of life.
This life is what I missed.
I knew that idle talk while in a queue
was Something more than Something to do
it was Something – Kindness – shared.
And true, we did have sky and sea
and air and wind and bird and bee.
But all through glass – who could be
But jealous of the bird?
Yet you and I are here at last,
And all the minutes we have amassed
apart – lie distant in the past.
While we lie safely here …
For the view from the window was charming
But oh, how I missed blue.
And your voice, through the phone, was lovely
But oh, how I missed you.
Our new found values
Johanna Lane  Presentation College Currylea Co Galway
To tug on an elastic string
Connected to a cotton sheath,
And reveal a face,
Missed for several months
To dive into a sea of people
And to be met with a
Soft embrace.
To get lost in the touching
Of skin,
The commotion of laughter
A scene deemed immoral
In the past,
Now an experience of
An undeniable beauty
To sit yourself
Upon a barstool
And absorb the aroma filled
Heat of the restaurant.
A sensation providing pleasure,
That had never been acknowledged before.
A small feeling of freedom,
Gained now and cherished.
An unforgettable change
That would prove difficult
To reverse – again.