Ingrid Kehoe from SI Wexford is interviewed by Mary Hession, SIGBI PR and Marketing Team.
This article was first published in Soroptimist News in February 2022.
Wexford is a coastal town on the southeast of Ireland, founded in the 8th Century by the Vikings. Because of its location, it has a long and varied history which is reflected in the architecture of the town. Into this environment, Ingrid was born, educated and lives with her family.
Fifteen years ago, Ingrid was introduced to Soroptimism by her mother (who is still a Soroptimist) and when I asked her why she became a Soroptimist she told me it is the same reason why she remains a Soroptimist 'friendship and working together'.
She describes herself as 'an ordinary Soroptimist' but ask the other members about her and they describe a person who is at the heart of Club activity, who makes a distinctive contribution and has done so since she became a member, through her involvement in fundraising, innovative ideas for projects – she is known for the efficiency of her car boot sales – and working as Club Secretary and President.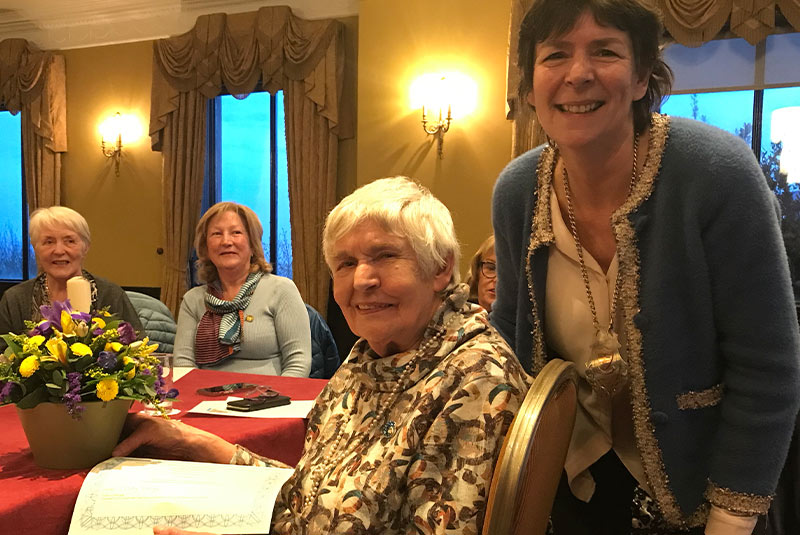 We discussed the kinds of projects that are taken up by Clubs, both fundraising and service and Ingrid says she believes strongly that projects are only successful where they are interesting for members to become involved in and produce satisfaction in the execution. At this point, Ingrid also told me that she doesn't particularly enjoy 'heavy' meetings but will attend them to stay involved in Programme Action. I think many of us will agree with her on this point.
Ingrid was Wexford Club President from 2009-2010 and has recently become Club President for a second time for 2022/23. We spoke a little about how being Club President affected her perspective on Soroptimism. She told me that being President gave her a broader view of the reach of Soroptimism, not just as a local women's group but how Wexford SI slotted into the ROI Region, into SIGBI and the international organisation.
She has a strong sense of the cohesion of the Wexford Soroptimists and their ability to work together as a team, bringing various skills to the table. An excellent example of this teamwork was their 'Safe Home, Safe Community' project which aimed to raise awareness, particularly among young people, of the damage caused by domestic abuse. This project won the SIGBI Best Practice award in 2019.
Ingrid chose a fundraising project for her year as Club President. To support children in the community who were unable to access mainstream education without extra assistance, the club ran a number of fundraisers during the year. They raised sufficient funds to provide the support necessary to enable several students to gain skills needed to move into mainstream education.
My personal favourite project from Wexford SI, is their presentation on International Women's Day, of beautifully presented flowers as a gift to women passing by their stand – you need to understand that Ingrid is a florist! From photographs, it is hard to tell whether the Soroptimists presenting the flowers, or the women receiving them are happier.
My only regret is that I was unable to interview Ingrid in person, but I intend to remedy that by visiting Wexford as soon as Covid permits.