Breda Shannon SI Wexford Delegate reports from the Conference
Theme: Climate for Change.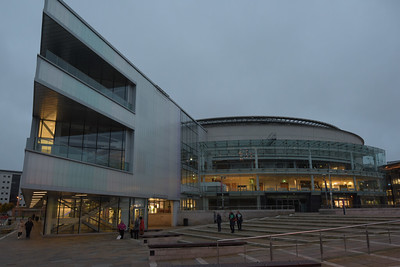 On Thursday evening, October 27th President Cathy Cottridge opened the conference by welcoming the delegates to Belfast and wished everyone a pleasant stay. There was entertainment by the Belfast Cathedral Choir and some traditional music and dance were enjoyed by all.
The welcome to Belfast was repeated on Friday morning by the Lord Mayor, Councillor Christina Black, who said that the Belfast Soroptimist club is 90 years old, having been founded in 1932. She reminded us that many of the necessary social changes and developments, such as housing, were initiated and led by women over the years.
Maureen Maguire: Human Trafficking – International President, Maureen spoke on this topic and reminded all present, that SI has consultative status at the United Nations. She stated that education is vital, as a tool to combat the ongoing issues of sexual violence, human trafficking, domestic abuse, gender inequality etc. Education transforms lives economies and societies.
Elizabeth Gowing: Education – Elizabeth gave a very interesting talk about what she did, and how she did it, in order to initiate a culture of education among the Ashkali Roma Community in Kosovo. 4% of Kosovans are from this very poor community and 97% of them had never finished formal primary education. Elizabeth's story began when she met a little girl who told her that she would like to go to school, but couldn't, because she didn't have shoes. Elizabeth went around this community supplying shoes to a number of young children. She set up a school and began to teach them herself. All went well for a little while and then some children began to drop out. She discovered the reason; those children had been collecting plastic rubbish from skips, to earn money for their parents. Elizabeth knew she had to do something further, so she taught the mothers how to make soap, for sale.
This was the start of something much bigger. When soap-making was successful Elizabeth taught the mothers how to make little bags to hold the individual bars of soap. She taught them how to sew by hand and then taught them how to use sewing machines. Next, she employed sewing teachers, who instructed the mothers in the use of sewing machines. It spiralled so that the children were able to attend school every day. Elizabeth procured funding to build a sizeable school and was invited to join the prime minister's cabinet in Kosovo. She is currently working with the government there. Her advice is: Help people who are needy. Help people who are needy to help themselves. Help people who are needy to help others. Elizabeth's motto is "when you learn teach, when you get give"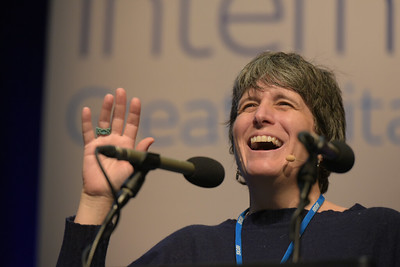 Gemma Milne: Health – A researcher in science and technology studies, Gemma spoke of this topic in relation to health and mentioned the current debate regarding the ethics of science and technology. She reminded us that the pandemic taught us the importance of everything else, such as community, social interaction, face-to-face communication et cetera. There is now a need for change, from reaction to prevention, in the field of health. She cited the 'loneliness epidemic' and the importance of diet. We need a social approach to focus on local education, and a move towards healthy food supermarkets, rather than putting the onus on individuals. Health education needs to be values-led, rather than technology-led. Global collaboration can facilitate the implementation of the optimum methods of diagnosis, surgery etc. Instead of continually asking questions about health and well-being, we should act now, using all the knowledge which we already have.
Rebecca Cecil Wright: Envirofest – Rebecca stated that we need a broad-based public debate to create the basis for change. She reaffirmed the notion, that change starts with individuals and as it ripples, social movements evolve, which can be very powerful. She referenced the three-stage theory of change: a) Raising awareness. b) Creating an emotional connection. c) Agency – acting to provide channels so that people can do things themselves. We must direct people in a way that is meaningful for them. An award-winning documentary filmmaker and environmental educator, Rebecca promotes the use of entertainment media, to focus the attention of individuals and societies, on the topic of climate change. She showed and recommended a shocking documentary film, by Craig Leeson, called 'A Plastic Ocean'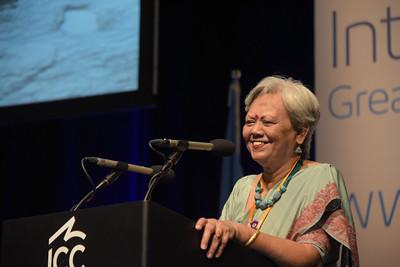 Leigh Elwood-Brown: Gender Equality – Leigh gave a factual and analysis-based talk, sadly laden with high numbers and statistics, on the topic of gender inequality in today's world. To list but two: (1) it will take 300 years to achieve 50/50 equality. (2) progress must be 17 times faster than in the last decade, merely to end childhood marriage. Education is a vital tool, to combat sexual violence, human trafficking, domestic abuse, and gender inequality.
Robyn Knox: British Red Cross – Robin spoke of the changing nature of modern-day emergencies, and how this has come about, directly as a result of climate change. She referenced fires, floods, storms, landslides, hurricanes etc. and their impact on societies and communities worldwide. These climatic events are now happening with greater frequency and intensity. The Red Cross is the largest humanitarian network in the world with 15 million volunteers worldwide.
Programme Action – The current program action project facilitated the planting of 200,000 trees, which were appropriate for their various habitats and environments; for example, mangroves in India and our own Irish Oaks in these islands.
Reception of the Flags – This was a ceremony in which each country which has a Soroptimist club, had its National flag presented to President Cathy. Each was brought to the stage by a secondary school girl, wearing the uniform of her school.
Best Pracice Awards – There were five recipients.
1) San Fernando club initiated and implemented a 'Digital Skills Programme' for women and girls, even in far-flung rural areas, and thereby hugely improved their access to education and their prospects to generate an income.
2) Saint Alban's & District club participated in a project called 'Colour the World' They used the colour orange in making posters and lighting up public buildings, to promote awareness of domestic and general abuse, and violence against women and girls.
3) South Kolkata club in the Sunderbans of India, was awarded the 'Planet Category'. The mangrove forests had been annihilated over the years, thereby exacerbating and contributing to climate change. The SI club of Kolkata initiated, funded and facilitated the planting of more than 25,000 mangrove trees, in just 15 months. The big advantage with these trees, is that when mature, those plantations can actually reduce a category five hurricane to a category three.
4) SI Grange-over-Sands was awarded the 'Prosperity and Training' category. Their project was called 'Chocolate has a Name' and it involved training the daughters of cocoa farmers to make chocolate. They funded the setting up and establishment of a permanent workshop and a school, in order to train teachers and teach children about the fabrication of chocolate. This resulted in a notable improvement in the lives of women and girls in the community there.
5) S.I. Runcorn Received an award for its project called '100 Cushions for 100 Years' This project involved the making of special armpit cushions, to ease the lot of ladies who had mastectomies, and to give them physical comfort during recovery.
Chevonne Agana: Climate for Change – In keeping with the theme of the conference (Climate for Change) Chevonne, who is Director of Membership, said that the time for change within the organisation is right now. She spoke at length about falling numbers and retention of numbers. She covered the topics of an ageing membership, personality issues, perception of extensive bureaucracy, lack of engagement among members, lack of meaningful programme action work, too many meetings, inconvenient times etc. She suggested that we ask ourselves two questions: Who are you? What do you do? She said that our work must sell us and that there isn't any one particular solution to the aforementioned problems. There was much discussion and the idea of e-clubs was mooted, as was a hybrid version, whereby a club could have an organized and agreed combination of on-site and online format.
Dr Tara Shine: Climate Change – An expert in the field of climate change and climate justice, Dr Shine endeavoured to give us hope and encouragement, in the current atmosphere of fear and uncertainty about climate change and its effect on environmental sustainability. She highlighted the important role that women can play in the area of climate change. She defines sustainability as a 'happy society, healthy planet and a thriving economy. She reminded us that women are disproportionately affected by climate change and this must be recognised and acted upon, by those in authority. The people who are least responsible for climate change are sadly the most affected. During the recent flooding in Pakistan, many women lost their homes and were forced, along with their families, to seek new places to live. The charging speed of climate change was particularly evident in the summer of '22 with numerous forest fires across Europe. This forced people to abandon their homes in great numbers. No one is immune to climate change, and we are all on course to suffer its effects in many aspects of our daily lives. The following are some recommendations to support women:
Promote and facilitate education for women and girls.
Be courageous and visible in creating change.
Use collaborative engagement to work together.
Utilise generosity and kindness to encourage cooperative action.
The planet Earth will survive climate change but humanity will disappear, unless we individually and collectively act now. Scaremongering does not work. We must be positive and work together. This can be done by all of us implementing small, individual changes (even using a 'keep cup' for coffee and being diligent in proper recycling) which collectively have a cumulative effect for improvement.
Belfast 2022 SIGBI Conference was enlightening, informative and encouraging. All speakers remained on theme and generously shared their knowledge and expertise.
Éadaoin Lawlor, a member of SI Wexford was inaugurated as National President of SI Ireland 2022/'23.
The foregoing report is not exhaustive and is my own synopsised version of the content.