Theme: Challenge the Future
Breda Shannon SI Wexford presents a round-up of the quadriennial Soroptimist International Convention held in Dublin.
The Convention commenced with the Presentation of the Flags and an Opening ceremony performed by International President Maureen Maguire. Roderic O'Gorman, TD was invited speaker and the new logo was unveiled.  Eadaoin  Lawler, National President  said that we, as Soroptomists, are agents of change and listed some of our successful advocacy campaigns to date. While acknowledging that we have more rights than our grandmothers did, she reminded us that there is still much work to be done and emphasised the importance of 'working together' quoting the Irish proverb  Ní  neart go cur le chéile (there is no strength without unity)  Northern Ireland, President Barbara Carlisle, spoke of Soroptomists'projects and activities in her area.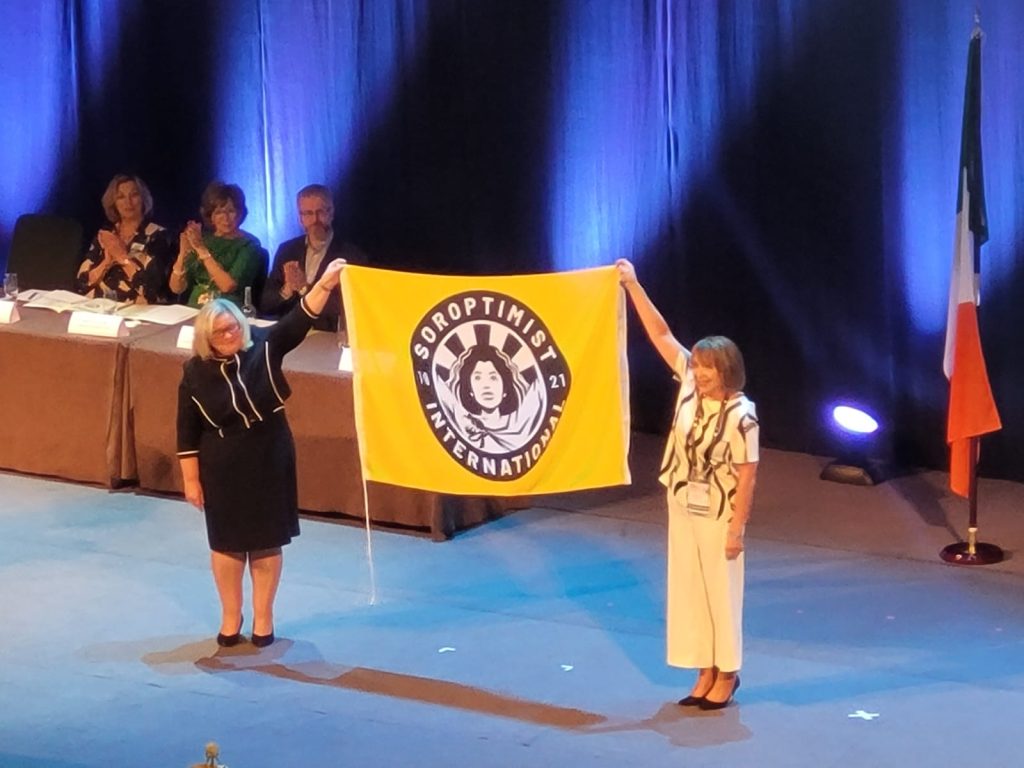 Mary Robinson spoke on climate justice, saying that  "women leaders now must step up and lead as never before"  She introduced us to Project Dandelion, the aims of which are six-fold: 
1) Stop governments, subsidising fuel companies.
2) Shift and incentivise investment to renewables.
3) Pay up to those least responsible, but most impacted.
4) Build better resilience to climate emergencies.
5) Learn from indigenous peoples.
6) Scale a fair and accessible energy future.
The motto of Project Dandelion is "We will harness the power of the people to move the system".
Suba Umathevan, CEO of the DROSOS  Foundation,  spoke of her her dedication to children's rights and the importance of promoting life skills among disadvantaged children and young adults.  Her goal is to progress the rights of all women and children.
Mr Ma Yong-Joeu spoke of historic human rights infringements in his country, the Republic of China,  and listed the achievements and progress made during his term as President.  Nicole Ameline has campaigned for the protection of maritime resources, as Minister of the Sea in France.  She spoke of gender parity and professional equality and empowerment for women and girls and of her ongoing endeavours against discrimination, across all sectors of society.
Felisa Tibbitts spoke of transformative education for addressing climate change and global citizenship. Her research includes curriculum, pedagogy, critical pedagogy, and higher education transformation. In promoting ESD (education for sustainable development), she said we must motivate the head, the heart and the hands, and we must enable children to have fact-based opinions.
Dr. Renata Dwan spoke of "women, peace, and cyber security in securing our future"   Women suffer, rape, violence, and abuse in conflict zones of the world, while women in non-conflict areas are subjected to online abuse and intimidation. She praised Iceland for its good work practice and Ireland for its notable work on gender-based discrimination.
Jim Gamble is CEO of 'Ineque' Safeguarding Group and is a global authority on safeguarding children.  His lecture was titled  "It's not about technology"   Technology was and is a force for good. It was built for the good but is used by some for bad purposes and,  anonymity fuels online evil.  He stated that online harm has offline roots.  Shattering the myth that 'viewers aren't do-ers'  he said that  "yes, viewers are do-ers and viewers are participants"  Children and teens need to be informed of online hazards and forgiven if they make a mistake. The basic tool he proposed is our own motto,  Educate, Empower, Enable.
Seán Wesley, a veterinarian, gave a talk on  "Securing well-being for Animals, People and Planet"  He said that looking after the welfare and dignity of animals is intrinsic to the SDG's and he cited the connection between cruelty to animals and cruelty to humans.  Regarding domestic abuse and violence, he said that refuge personnel need to be aware of this, and they need to take cognizance of the fact that some victims of abuse may be reluctant to enter refugees because of the threats and risks to the pets they leave behind.
UN consultancy status: Voice at the United Nations. Reports were given by Leigh Elwood Browne, Beverly Bucur, Sue Williams, Maureen Maguire, Deborah Thomas, Siew Yong Gnanalingam, and Sharon Fisher.
A novel addition to the Convention was the inclusion of Six Information Workshops.  The two young ladies who won the Public Speaking competitions in Northern Ireland and the Republic of Ireland, delivered their speeches, to much acclaim.
 The convention finished with the closing ceremony and announcement that the next quadrennial convention will take place on a Cruise Ship to/in Alaska in 2027.
The foregoing report is not exhaustive, and is my own personal synopsis of the content  from the three-day convention.