The Soroptimist International (ROI) annual Public Speaking competition is a cornerstone of SI club activities across the country. It is an outstanding initiative that benefits girls in upper secondary schools and is now entering its 42nd year. We received very positive and encouraging feedback throughout the year from many teachers and schools.
Local and regional heats of the competition are now completed. We have 8 finalists who will participate in the National Final competition on Saturday, March 04, 2023, in the Riverbank Hotel, Wexford@2pm.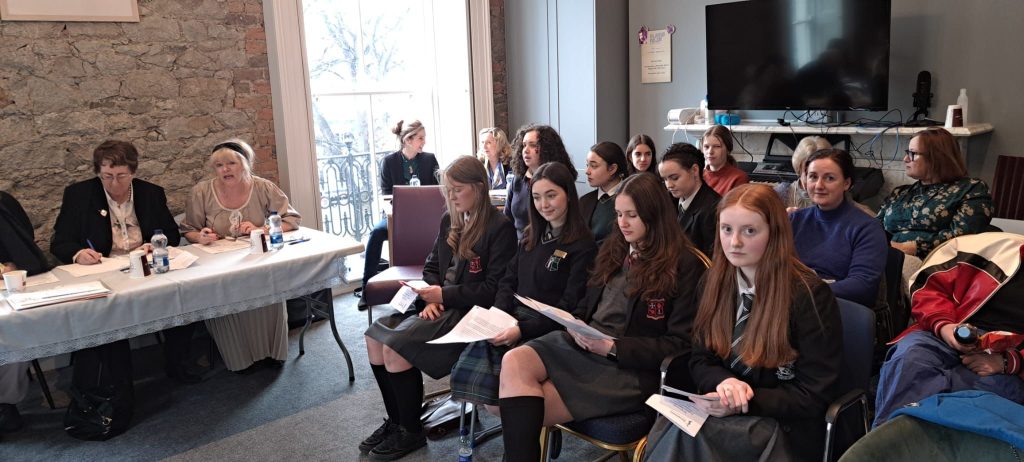 Teachers, schools and participants support the competition with enthusiasm, interest and eagerness. None of this would have been possible without the magnificent support of teachers and schools notwithstanding the continually changing contexts and complexities of everyday school life. We sincerely acknowledge their continued assistance, support, cooperation and encouragement and look forward to working with them in 2024 to maintain the strong traditions of our public speaking programme.
We salute the PS convenors in our clubs – they have been rocks of resilience, determination and patience – their efforts ensured the implementation, delivery and successful conclusion of the challenging 2022 competition with both virtual and in-person presentations. They have continued to organise the 2023 programme with ease and success. A special thanks also to SI members in all clubs who made every effort to accommodate, facilitate and support the competition. We recognise unreservedly, the investment of time, energy and enthusiasm that enables and enriches girls' self-esteem, confidence, competence and self-regard.
The topics for 2023 are based on the 5 P's of Soroptimist International Programme Action: People, Prosperity, Planet,Peace and Partnership. A sixth area is also included: Friendship (& Volunteering). The Soroptimist Convenors posted the details and all information to schools in their catchment areas earlier in the year.
It is our privilege to announce a new patron and benefactor of the public speaking competition for the next three years! SCF Global Campus is a global science and engineering education network of academia, industry, government bodies, SMEs and individuals. Learning is gained through seminars, conferences, research exchanges, and internships with a focus on hands-on training. The SCF Global Campus is part of SCF Processing Ltd and is delighted to support the Soroptimist International Republic of Ireland Public Speaking competition. We are indebted to our Membership Officer, Siobhán Matthews and her company for a most generous sponsorship commitment.
SCF is Supercritical Fluids which is a technology that a lot of our research is based on. As SCF roots are in melting and mixing of materials – the ball with the different colours swirling represents this. The ball is the SCF Processing logo with a mortar board on top to represent education. SCF Processing is involved in materials research, development and manufacturing. Within the manufacturing, specialised materials are made, and materials processing equipment is designed, built and manufactured into medical devices.


The public speaking competition remains a significant event in all Soroptimist International club activities across the country. It is an outstanding and enduring initiative that has proven to be of benefit to and for girls in upper secondary schools – we hope that this continues.